Bank-Verlag and coconet announce partnership - Digital transformation in corporate banking
Bank-Verlag and coconet have announced a partnership. The goal is to support banks of all sizes in cost-effectively accelerating the further development of their digital corporate banking channels with a focus on payments.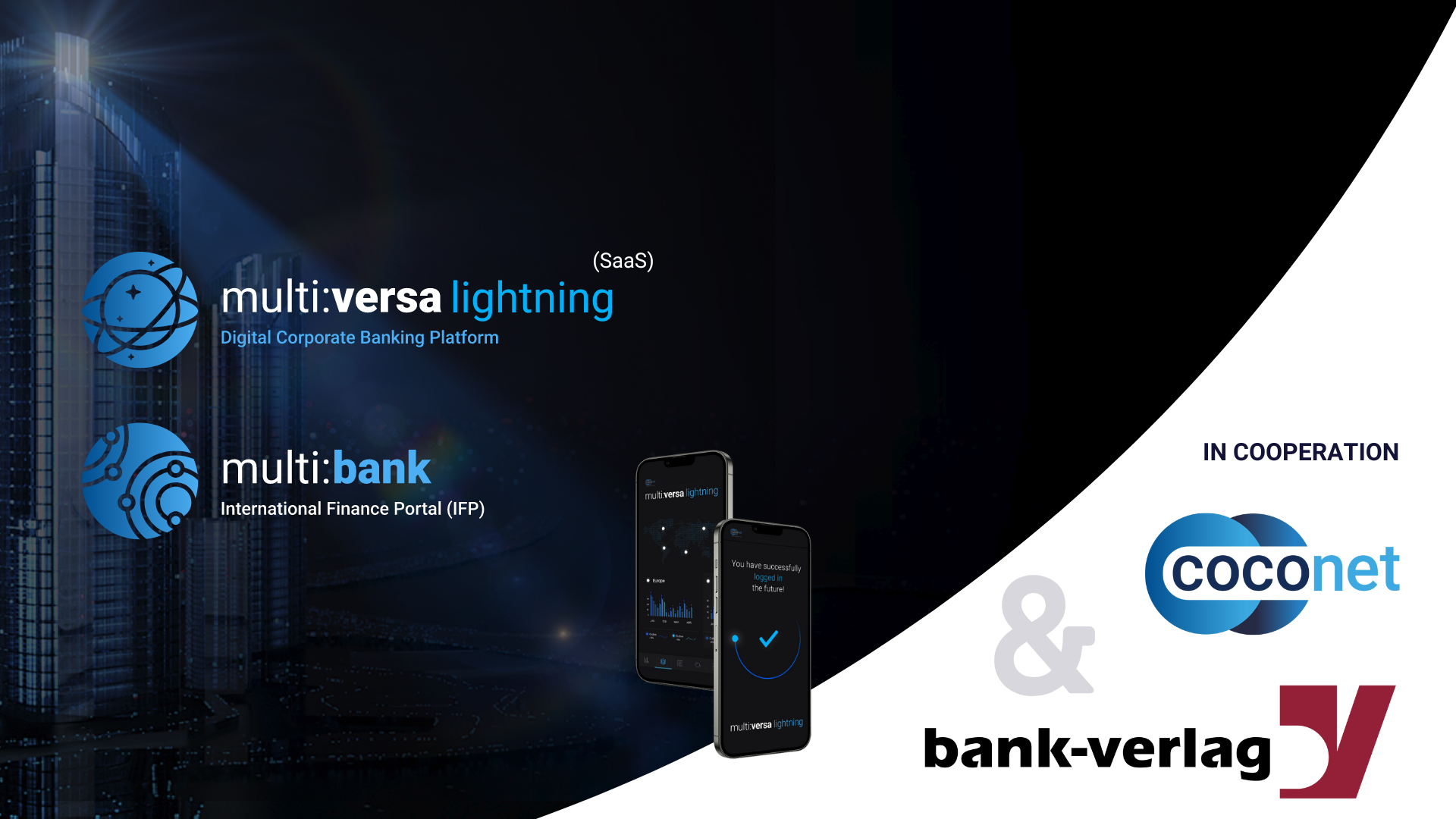 (Dusseldorf, 07.02.2023) Banks struggle with modern digital platforms that can encompass multiple core functions, disparate systems and product silos. This is where banks will benefit for the future from the combination of coconet's open platform multi:versa and the specific industry know-how of Bank-Verlag through comprehensive software-as-a-service solutions. The spectrum ranges from digital front-end functions to back-end transaction processing.

In this context, coconet's digital banking experts convince with their standardized SaaS offering for corporate customers, which fully meets the banks' requirements. multi:versa lightning and the established base engine multi:bank provide all current requirements for a new multibanking cash management solution for corporate customers. The Düsseldorf-based company coconet has been a leading provider of digital white label solutions for well-known banks and service providers in corporate banking for more than 30 years.
"With multi:versa and the bank publisher, our banks will be able to retain and attract corporate customers with economic potential," says Mark Lohweber, CEO of coconet. "We are very confident that with our expertise and experience we will establish a successful new solution together with Bank-Verlag."
Founded in 1961, Bank-Verlag is the service company of private banks. The company supports its customers in all areas of IT security, electronic banking and cashless payment transactions and offers solutions for the implementation of regulatory requirements. In addition, Bank-Verlag publishes various specialist publications and offers important information and networking opportunities for the financial sector with its events.
The coconet group was founded in 1984 and offers multi:versa, a unique digital platform for corporate banking. Banks and service providers use the leading Digital Corporate Banking Platform to build a truly digital and embedded corporate bank of the future.
The platform includes global payments, corporate banking applications, multi-bank cash management, open banking APIs, digital customer onboarding and innovative dashboards. multi:versa is a reliable, out-of-the-box solution for corporate banking channels, built on state-of-the-art cloud architecture patterns, delivering a stunning user experience and fast innovation cycles and scalability to meet our customers' needs at every stage of growth.
Today, more than 1,000,000 users with over 200 payment formats and more than 30 country-specific versions use coconet's powerful and easy-to-use tools and integrations to attract, retain and delight customers. Analysts such as Gartner, Celent, Forrester, Greenwich and recognize coconet as a market leader for corporate banking. Clients include household names such as Berenberg, Citi, Deutsche Bank, GarantiBBVA, Helaba, HSBC, ING, JPM, KBC, LBBW, Natixis, Postfinance, Raiffeisen and Unicredit.