International Banking Server (IBS)
multi:

hub
The clever eBanking server that prepares you for the future today
multi:hub is the central eBanking server within your architecture. It connects different client access channels with your backend systems. Banks and service providers can merge existing portal solutions, offline systems and proprietary channels for different target audiences and countries in a single central middleware. Of course, we fully support standardised communication via EBICS.
In interaction with the multi:versa platform, multi:hub offers clever synchronisation of client data and advanced information, such as rights and roles. Your administrators will love multi:hub – and your clients will be impressed by its speed.
multi:hub offers:
Standardised communication with corporate clients via EBCIS, SWIFT, Host2Host and Open Banking APIs
Secure data exchange in particular for payment files and reporting, including checking of electronic signatures
Format conversion from any input format to any output format
Maximum performance for peak loads at month or year end
Standardised routing plus individual plug-in library for further processing
Comprehensive monitoring and seamless integration into IT architecture
Switch it up a gear and reach maximum performance with your banking server.
As middleware, multi:hub opens up new channels for the efficient exchange of payments and files between your corporate clients and your bank. Increase performance with intelligent processing and bundling in multi:hub.
With multi:hub, you are providing your clients with the fastest and most secure solution for submitting and allocating payments and reports according to the latest EBICS or SWIFT standards. Thanks to the clever Payment Factory, multi:hub also takes over the entire processing and harmonisation of transactions – across all channels.
As a result, multi:hub directs orders to your backend exactly as it needs it – converters or extensive adjustments carried out by the backend in the event that standards change are therefore a thing of the past.
multi:hub makes your transactions efficient – and thanks to our plug-and-play reg-tech expansions, you will be prepared today for the standards of tomorrow.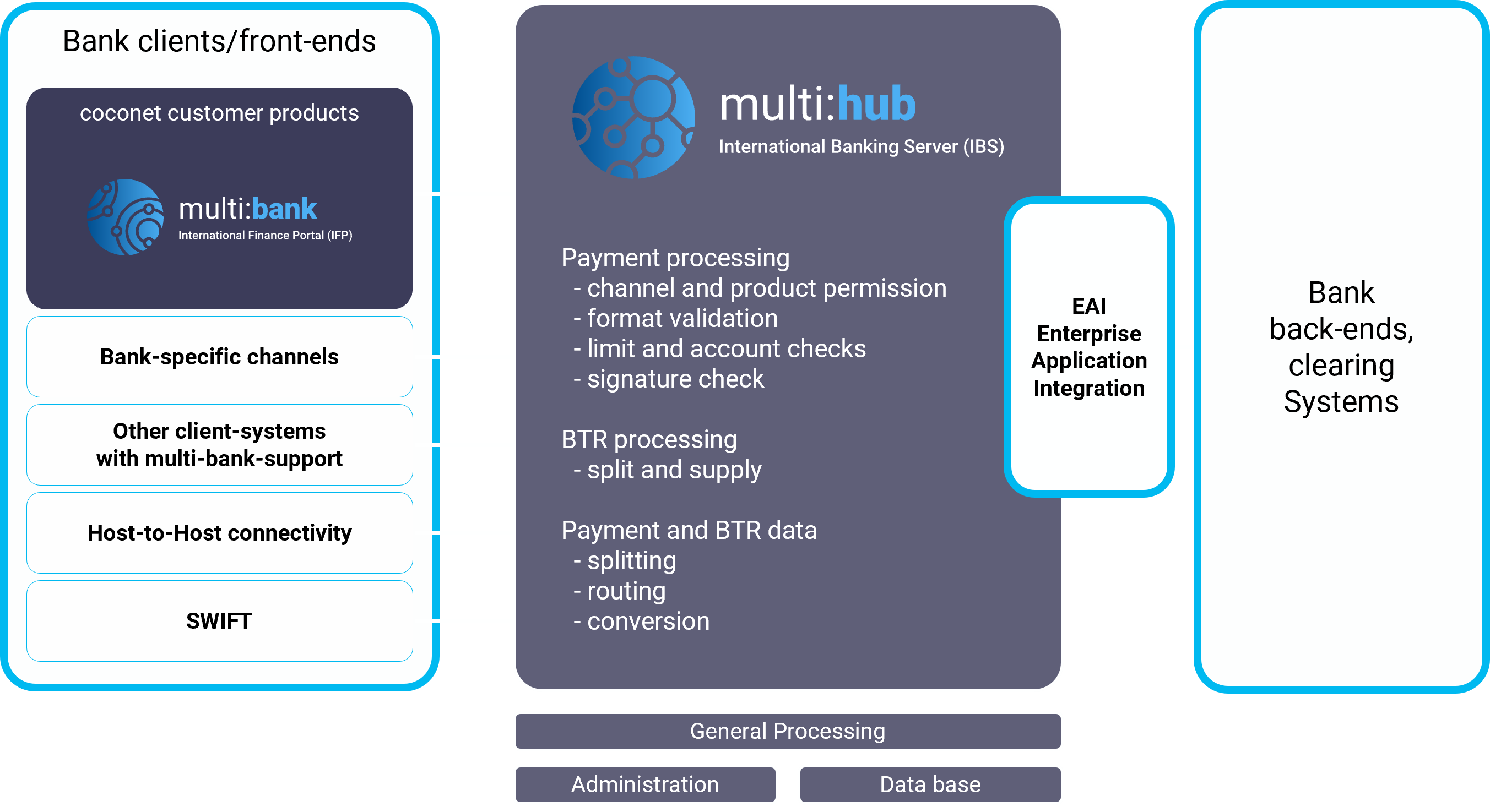 Harmonising payment channels can be a tough challenge. In addition to technical standards, regulatory issues also play a key role in this line of business. Wouldn't it be great if there was a solution that meets these requirements without hassle and that can be seamlessly integrated into your existing ecosystem at the same time?
multi:hub tackles exactly this challenge. With wide support for European and international eBanking standards and an API-based connection to your existing backend systems, you will be ready for clients' increasing demands. And simple expansion concerning new regulatory standards or formats is also guaranteed – more than 200 payment formats and EBICS for Germany, France, Switzerland and Austria are always included.

UniCredit
UniCredit delights its clients in numerous European markets with a strong EBICS offer consisting of the entire multi:versa platform range.

Raiffeisen
In addition to the completely new EBICS portal based on multi:bank, Raiffeisen Switzerland benefits from a central connection to the backend and the creation of central client and user administration.

LBBW
As a bank for the mid-sized sector, LBBW understand the needs of its clients. With multi:hub, it delights clients with rapid processing of orders, and makes administration in the central portal easier for staff.
Multi-lingual administration
Granular rights concept according to an N-control principle as well as separation of system administrators and client support.
Language-independent, controlled by selection of the browser language
Comprehensive research options, including status tracking
Statistics for clients, profits, orders etc.
Bank-specific audit logging
Checking of authorisations, signatures and limits
Format validation
Payment Factory for the conversion of transaction files including data enhancement
Direct (streaming-based) data processing
Routing/rule-based workflow engine
Provision of account statements and other reporting data (camt, MT94x, pain.002 etc.)
F
ast

Track to multi:

hub

A central Payment Factory will be of interest to your bank if you want to offer individual options to your corporate clients, in addition to standardised formats and methods of submission.